The Safer Living Foundation: what we do
We work everyday to prevent sexual abuse. We care deeply about community safety and keeping children and other vulnerable people safe and the way we work is through preventing the perpetration of sexual crime.
Research shows that there are certain factors that put someone at risk of committing sexual crime, and also certain factors that can prevent this from happening. This frames everything that we do, as we work to increase factors that stop somebody offending and reduce those that put someone at risk.
We work with many individuals who are at risk of sexual offending or who have been convicted of a sexual offence. These individuals include those that have intellectual disability, are elderly, have very little or no social support and/or who are sexually attracted to children and/or adolescents. These groups are often particularly vulnerable and may be a higher risk and we aim to reduce this risk and reduce (re)offending, promoting our ultimate goal of preventing victims of sexual crime.
Why?
People often ask us why we work with people who have committed sexual offences, or those who are at a risk of this, questioning why we wish to work with such individuals. Sexual crime does indeed cause destruction and devastation in the lives of others, and the perpetrators are often ostracised by our society. Yet being part of an initiative like this, we have the opportunity not only to improve the lives of these individuals, through promoting their integration into society and reducing risk of offending, but to improve the lives of men, women and children, through preventing further victims of sexual harm, and it is for precisely these reasons that we find the work so rewarding.
Research and Evaluation
As a charity, we are keen to evaluate our projects from the outset, so research and evaluation are built into each project right from the beginning. The research stream of our charity is led by Professor Belinda Winder from from Nottingham Trent University (Trustee and Head of the Sexual Offences, Crime and Misconduct Research Unit; SOCAMRU).
What makes the Safer Living Foundation Unique?
We are keen to take on projects that help the community in reducing sexual crime, but we are also enthusiastic about wanting to help individuals who have committed sexual offences reintegrate back into society, as well as those who are concerned that they may be about to offend. Although we are a young charity, our trustees have considerable experience of charitable work generally, and a substantive amount of expertise in working with sexual offenders and for these reasons we are prepared to work with some of the most challenging and high risk sexual offenders to protect communities.
Our Projects
The Aurora Project (The Prevention Project)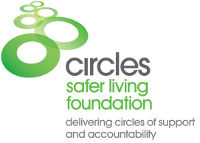 Circles of Support and Mentoring
We are currently recruiting volunteers for both our adult and young people's projects. If you are interested, click here for more information.