The Safer Living Foundation has today accredited as a Living Wage Employer. Our Living Wage commitment will see everyone working at the Safer Living Foundation receive a minimum hourly wage of £9.90 in the UK, significantly higher than the government minimum for over 23s, which currently stands at £9.50 per hour.
---
Whilst we are updating our website you will be able to find all previous news stories below.
SLF Statement on BBC Three Documentary Can Sex Offenders Change?
The Safer Living Foundation's involvement in the recent BBC Three documentary Can Sex Offenders Change? highlighted the important work of our award-winning charity. Our aim is to cut serious crime by preventing first offences and repeat offending, especially sexual offending, thereby preventing further victims.
We do this through preventative and rehabilitation initiatives both inside prisons and in the community, including adult and young people's projects, and the Corbett Centre for Prisoner Reintegration. We work closely with police, probation services, victim's groups and local agencies.
Our work is evidence based, underpinned by research and evaluation carried out by Nottingham Trent University's Sexual Offences Crime and Misconduct Research Unit. This research shows that interventions, such as those provided by the Safer Living Foundation, reduce both offending and reoffending.
---
Third Sector Awards 2019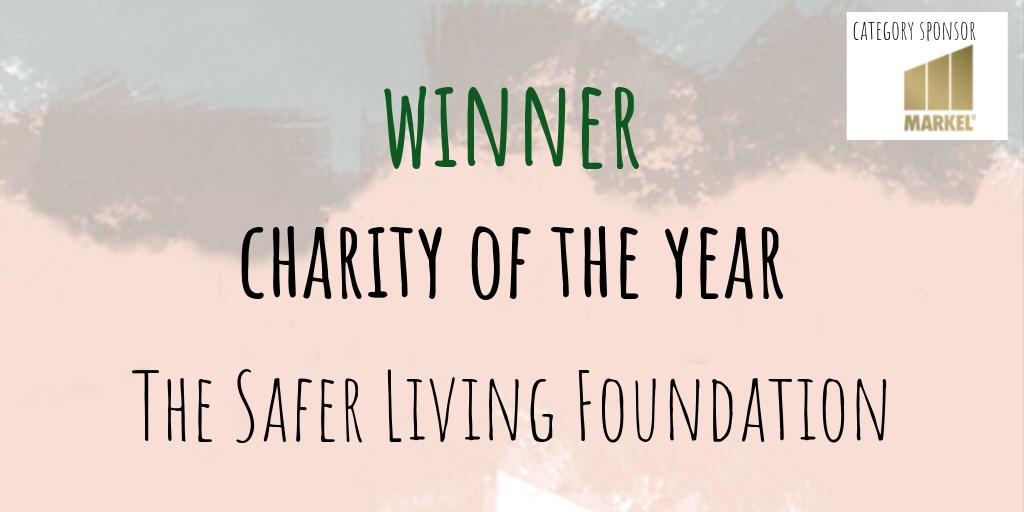 This year's Third Sector Awards were presented at the Marriott Grosvenor Square in London. The awards are an opportunity to celebrate and recognise charitable organisations working hard to make a difference. After being nominated and shortlisted, the SLF won the award for Charity of the Year 2019! Well done team!
---
The Guardian's Public Service Awards 2018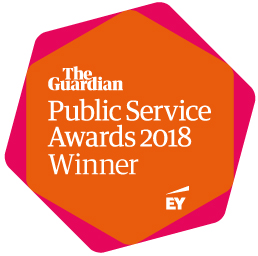 The Guardian's Public Service Awards 2018 were presented by Patrick Monahan at Lindley Hall in central London. Our chair, Lynn Saunders, won the Leadership Excellence category at this year's ceremony recognising her pioneering work and achievements within the CJS, particularly her involvement with the Safer Living Foundation . Well done Lynn!
---
2018 Community Awards Winners
The Howard League Community Awards were presented at the national conference on 14 November 2018 by Gerry Marshall, Trustee of the Howard League for Penal Reform and Chair of the Awards judging panel.
The Safer Living Foundation charity was formed in 2014 and is an innovative partnership between HMP Whatton and Nottingham Trent University.  The SLF was set up to prevent and reduce sexual offending.  With its front-line experience of working with people with sexual convictions, the charity's trustees understood the gaps in standard provision for people convicted of sexual offences.  The trustees envisioned and actioned innovative ways to meet these gaps.  Through the charity's links with a specialist research unit at Nottingham Trent University, the work of the charity is evidence-based, robustly evaluated, and contributes to best practice and theoretical knowledge world-wide.
The charity has achieved several 'firsts' within the criminal justice arena: they were the first to run prison-based Circles of Support and Accountability (CoSA), and one of the first organisations to offer free face-to-face support for people troubled by their sexual thoughts.  The charity is about to open a ground-breaking centre to help people with convictions reintegrate with society and develop meaningful and prosocial lives.
The SLF regularly publish their evaluation/research findings in peer-reviewed journals, contributing to the global evidence base on reducing sexual crime.
To see the full list of winners please follow this link
---
July-2018[gview file="http://www.saferlivingfoundation.org/wp-content/uploads/2017/03/SLF-Newsletter-July-2018.pdf"]
Archived Newsletters
Mar-2018[gview file="http://www.saferlivingfoundation.org/wp-content/uploads/2017/03/SLF-Newsletter-Mar-2018.pdf"]
Oct-2018[gview file="http://www.saferlivingfoundation.org/wp-content/uploads/2017/03/SLF-Newsletter-Oct-2018.pdf"]
December 2017[gview file="http://www.saferlivingfoundation.org/wp-content/uploads/2017/03/SLF-Newsletter-Dec-2017.pdf"]
July 2017[gview file="http://www.saferlivingfoundation.org/wp-content/uploads/2017/03/SLF-Newsletter-July-2017.pdf"]
April 2017[gview file="http://www.saferlivingfoundation.org/wp-content/uploads/2014/03/SLF-Newsletter-April-2017.pdf"]
January 2017[gview file="http://www.saferlivingfoundation.org/wp-content/uploads/2017/03/SLF-Newsletter-Dec-2017-1.pdf"]
April 2016[gview file="http://www.saferlivingfoundation.org/wp-content/uploads/2017/03/April-20162.docx"]