Do Something Amazing!
Volunteer with us and help prevent sexual abuse
We are recruiting volunteers across Nottinghamshire and Derbyshire to deliver both our adult and young people's projects. Our volunteers are from all walks of life and all ages (18+). They are emotionally stable and approachable people who have a mature outlook. They combine an empathic approach with the ability to maintain firm boundaries.
Commitment required to be a Volunteer
The most effective projects are those that meet frequently over an extended period of time. We therefore ask volunteers to commit to a couple of hours per week for approximately 18 months.
Training, Support and Supervision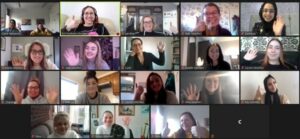 To equip you for this challenging and very rewarding role, all volunteers will be required to completed a two day training course run by the Safer Living Foundation (and approved by Circles UK) which will equip you to begin working within a Circle. For those volunteers who would like to work with young people you will be expected to complete additional training focused on the specific project you want to volunteer with. In addition, you will receive ongoing professional support and supervision and your expenses will be reimbursed.
Qualifications and Requirements
No formal qualifications are required however volunteers must be able to demonstrate their commitment to the aims of the Safer Living Foundation. Good communication and organisational skills, flexibility and an ability to travel within the counties of Nottinghamshire and/or Derbyshire. Your appointment requires satisfactory references, completion of the training and an enhanced DBS check and prison vetting.
Enabling local communities to prevent further sexual abuse…
…WHAT COULD BE MORE WORTHWHILE?